console is a plug-in host that allows you to freely combine plug-ins of different formats such as VST2.0 and DirectX (DX) audio. Its modular system allows for flexible routing, and together with its intuitive user interface, enables sound creation at the next level.
---

console ver.1.6.1 was released! See released note.
---
Features
Intuitive and graphical patching of plug-ins and audio devices.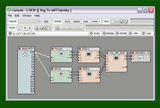 You can visually grasp the signal flow, just as if you were connecting real devices.
Support for VST/VSTi and DirectX (DX) audio plug-ins.
console supports VST effects, VSTi software synthesizers, DirectX audio effects, and DXi software synthesizers. Plug-ins can be interconnected regardless of their format. In other words, console can be used as a VST-DX adapter.
Works as a stand alone host application or as a VST/DX plug-in.
Not only can you use console as a host for various plug-ins, you can also use console itself as a plug-in. As a plug-in, console can be used by any host application that supports VST and/or DX plug-ins.
Swift operation that unleashes the user's imagination.
With console, users can focus on getting their work done without being interrupted. Operations are intuitive thanks to the drag & drop interface, and changes are reflected in real-time in the audio output.
MIDI Learn function for easy control of plug-in parameters.
Say good bye to the hassles of configuring your MIDI equipment. console is equipped with the MIDI Learn function, which allows you to easily link the MIDI controller to the plug-in parameters.
Unlimited simultaneous use of plug-ins.
With console, you can use as many plug-ins and sound channels as you like - you are only limited by your hardware's specifications and your CPU's processing power. For host applications that are limited in the number of plug-ins that can be used, console offers an easy workaround.
Original plug-ins included.
console comes standard with original VST plug-ins, such as a basic mixer and a set of switchers, which will assist you with complex routing tasks.
Support for sending and recieving MIDI clock.
Support for sending and recieving MIDI clock. When used as a stand alone application, console can be synced using MIDI clock. This feature is useful if you wish to use a tempo-synced plug-in to turn console into a stand alone tone generator.
Supports ASIO drivers for high-quality audio playback with low latency.
In addition to ASIO, console also supports DirectSound and MME, so you can use the driver that best suites your situation. For ASIO, multi channel I/O is supported.
For details on using console, see [5 Ways to Master console].